While hiking our trail is great fun, many people find that maintaining it is even more fun. Routine maintenan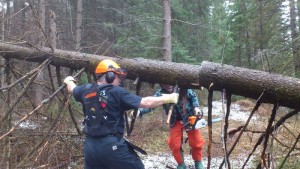 ce activities include
clearing deadfall
installing and replacing trail signage
trimming brush and weeds from the trail
and mowing the trails.
We also install and repair bridges and fence crossings.
The tools we use are chain saws, mowers, weed eaters, clippers, hammers, and small hand tools.
We provide the safety gear, training and orientation. All volunteers are covered by Workers Compensation.
Work parties
Work parties are typically scheduled for Wednesdays, Saturdays, and the occasional Sunday. The schedule of upcoming work parties is here.
We gather at the equipment storage site in Edmonton at 8:30 a.m. and leave by 9:00 a.m.  Work usually continues until late afternoon. The more people who come out, the lighter the work.
Join us
Are you in reasonable physical condition? Do you enjoy working with your hands and sharing in the fellowship of a dedicated group of volunteers?
You can join us for trail maintenance just by showing up at the storage site at 8:30 a.m.